Supporting the efforts of parents as primary educators
WELCOME to the CRECHE website!
CRECHE (Children Receiving Education in a Catholic Home Environment) is an apostolate that promotes homeschooling among Catholic families who are engaged in providing their children's primary education at home. With an outreach to all homeschooling families in the surrounding Fox Valley, IL area, CRECHE provides activities that encourage friendship and vibrant family life, striving to help members grow as disciples by bringing Christ to the world.
Registration for the 2023-2024 ends September 30, 2023. If you are interested in joining, please click HERE.
---
If you would like more information on how to homeschool, please visit the HSLDA website.
---
Here are just a few of the events planned for the 2023-2024 school year:
July 21 – Parent Meeting & Registration Event
August 25 – Registration Event & Curricula/Clothing Swap
September – Opening Day; Welcome Back Family Potluck
October – Fall Kaleidoscope
November – All Saints' Day Party
December – Moms' Advent Dinner
February – St. Valentine's Party
March – Spring Kaleidoscope
June – End-of-Year Celebration
PLUS…Moms' Nights Out, art classes, field trips, service projects, pilgrimages, boys' and girls' clubs, and much more!
1st Fridays of the Month – Mass followed by a variety of indoor/outdoor recreational activities and social time. This time is generally unstructured and may include seasonal crafts, board games, outdoor games/sports, etc.
3rd Fridays of the Month – This year we will have art classes focused on devotion to the Holy Eucharist for ages 6+; craft/story time for pre-K/Kindergarten. Teens will take part in world religions apologetics course. Nursery room available for moms and babies. Confession and Mass follow the meeting.
2nd and 4th Fridays of the Month – Reserved for field trips, service projects, or pilgrimages. 
Due to privacy issues, specific dates, times, and details for all events can be found on the CRECHE Calendar, which is accessible ONLY to our registered members. New registrants will not be able to access the "Members Only" areas of the website until their 2023-2024 membership has been processed and we have received payment for the upcoming year. (Please allow at least 48 hours to gain/re-gain access.)
May God Bless CRECHE and all of our families.
We hope that you have a blessed year!
Your 2023-2024 Board of Directors,
Cindi, Renata, Amy, Erin, Elsa, Lynnet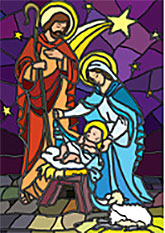 What's happening at CRECHE
crecheadm7
A Focus on Imitating the Holy Family The Holy Family models for us what family life should exemplify. It is a school of virtue for both parents and children. There we find God, and learn how to connect with God and with others. The family is where love is freely [...]
crecheadm7
Prayer for Homeschooling Dear Lord, bless me in my decision to homeschool my children. Grant me the grace of peace and determination in this awesome endeavor. Lead me to the proper materials for the instruction of each of my children, so that their individual talents and skills will be nurtured [...]