Supporting the efforts of parents as primary educators
WELCOME to the CRECHE website! [Please bear with us as we are updating the site for the upcoming school year]
CRECHE (Children Receiving Education in a Catholic Home Environment) promotes homeschooling among Catholic families who are engaged in providing their children's primary education at home. CRECHE is a ministry of Holy Cross Parish in Batavia, IL, with an outreach to all homeschooling families in the surrounding Fox Valley area. CRECHE provides activities that encourage friendship and vibrant family life, striving to help members grow as disciples by bringing Christ to the world.
Specific dates, times, and details for all events can be found on the
CRECHE Calendar
, which is accessible only to our members. Please note that you will not be able to access the "Members Only" areas of the website until your membership has been processed and we have received payment.
If you are interested in joining CRECHE, please click here for step-by-step instructions. We are an all-volunteer organization, so please allow ample time for us to respond. If you would like more information, please contact us.
FOR MEMBERS:
During these uncertain times with COVID, CRECHE is working extra hard to plan our future meetings and activities. Our CRECHE families are precious to us, and so, we want to make sure we plan things appropriately with your safety in mind.
May God Bless CRECHE and all of our families.
We hope that you have a blessed year!
Your 2020-2021 Leadership Team,
Katie K. & Tiffany W.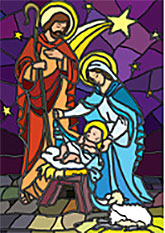 What's happening at CRECHE
Lynnet Vandenberg
Registration fees for returning members will increase on September 5th, from $30.00 to $36.00.
Lynnet Vandenberg
Because of Covid restrictions and the uncertainty surrounding our ability to meet, we have postponed registration for the 2020-21 school year until August. Returning members should be getting an email [...]
Lynnet Vandenberg
There won't be any CRECHE meetings or third Friday masses at Holy Cross this fall. More info to come. Third Friday masses for 2021 are on the calendar and are [...]
crecheadm7
A Focus on Imitating the Holy Family The Holy Family models for us what family life should exemplify. It is a school of virtue for both parents and children. There we find God, and learn how to connect with God and with others. The family is where love is freely [...]
crecheadm7
Prayer for Homeschooling Dear Lord, bless me in my decision to homeschool my children. Grant me the grace of peace and determination in this awesome endeavor. Lead me to the proper materials for the instruction of each of my children, so that their individual talents and skills will be nurtured [...]