Supporting the efforts of parents as primary educators
WELCOME to the CRECHE website!
CRECHE (Children Receiving Education in a Catholic Home Environment) promotes homeschooling among Catholic families who are engaged in providing their children's primary education at home. With an outreach to all homeschooling families in the surrounding Fox Valley, IL area, CRECHE provides activities that encourage friendship and vibrant family life, striving to help members grow as disciples by bringing Christ to the world.
Specific dates, times, and details for all events can be found on the
CRECHE Calendar
, which is accessible only to our members. Please note that you will not be able to access the
"Members Only"
areas of the website until your membership has been processed and we have received payment.
If you are interested in joining CRECHE, please click here for step-by-step instructions. We are an all-volunteer organization, so please allow ample time for us to respond. If you would like more information, please contact us.
PLEASE NOTE: Registration for the 2021-2022 school year is currently CLOSED. CRECHE will not be accepting new member requests from now through the end of the school year. Any new member requests that we receive will be filed away, and those individuals will be contacted once our active registration period begins in summer 2022. Thank you for your understanding.
May God Bless CRECHE and all of our families.
We hope that you have a blessed year!
Your 2021-2023 Board of Directors,
Katie K., Renata H., Lynnet V., Cindi S.
COVID-19 POLICY
If you or a family member has tested positive for Covid-19 or has been exposed to anyone who has tested positive for Covid-19, please refrain from attending any CRECHE gatherings for at least 14 days, whether you are symptomatic or not. If you or a family member inadvertently may have exposed any CRECHE member to Covid-19, please inform CRECHE administration. The health of our families is important to us, as is their personal liberty. CRECHE does not require masks or ask about any vaccines. Please use caution and common sense. Please refer to the Policies & Expectations page for CRECHE's entire Sick Policy.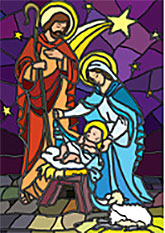 What's happening at CRECHE
Lynnet Vandenberg
Beginning August 17, 2021, annual dues will increase to $40. Early bird dues are $35 for those who register and pay by August 16th
Lynnet Vandenberg
Online registration for the upcoming 2021-2022 school year will be active from August 2-16, 2021. Annual dues will be $35 for new and returning members; $40 after August 16th. An [...]
crecheadm7
A Focus on Imitating the Holy Family The Holy Family models for us what family life should exemplify. It is a school of virtue for both parents and children. There we find God, and learn how to connect with God and with others. The family is where love is freely [...]
crecheadm7
Prayer for Homeschooling Dear Lord, bless me in my decision to homeschool my children. Grant me the grace of peace and determination in this awesome endeavor. Lead me to the proper materials for the instruction of each of my children, so that their individual talents and skills will be nurtured [...]